How do I reserve or order an item?

Browse our Shelves!
Select a collection below to virtually browse our shelves and request materials you would like to borrow.

There are three ways to order materials from the library:
Online
Visit our library catalog and type what you're looking for into the search bar at the top. By using the drop-down menus next to the search bar, you can narrow your search by keyword, title, author, or subject, and by whether the Marlette Library owns the item or if it must be ordered from another library.
Once you locate your item, click the "place hold" button, and enter your library card number (located on the back of your library card) and your pin (assigned when you receive your card). Then click the "place request" button. Congratulations! You have reserved your item!
In person
Come into the library during open hours and simply ask your friendly, neighborhood librarians to reserve or order you the item you're looking for.
Over the phone
Call the library (989-635-2838) during our open hours, and ask the librarians to reserve or order your item.

Where do I go to search for a book our library co-op does not have?
Ordering from MeLCat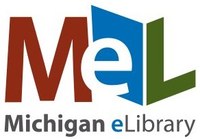 If you have searched our catalog and the book you want is not available in any of our cooperative's libraries, try your search in MeLCat. MeLCat is the free, easy-to-use interlibrary loan system that allows Michigan library cardholders to borrow books and other library materials from over 450 participating Michigan libraries! Items you request through MeLCat will be delivered to Marlette Library for your convenience and may be held for you for up to ten days.
To renew MeL items, you may call (989-635-2838) or visit the library, or visit the MeLCat website. Once there, click on "MyMeLCat" in the top right, choose Marlette District Library from the list, and enter your name and library card barcode number. Click on "items currently checked out" next to your name, then check the box next to the item you wish to renew and hit "renew selected".
Please be aware that in general, MeLCat items will only be able to be renewed once, and overdue items will not be able to be renewed online. For any other questions regarding MeLCat, please contact the library.